Fact – printing in offices has been in slow decline and that decline has accelerated considerably as a result of the impact of Covid-19.
Fact – home working and quite logically home printing has increased.
It would also be logical that going forward the signing of all-inclusive printer contracts will prove more difficult and the volumes associated with those contracts will be reduced.
This might be a message of doom except that for the fleet of foot it will also open up new opportunities that could increase margins for service, actually.
Running a home office increases the costs incurred by the workers themselves and no doubt a number will claim some of those costs from their employers including the costs of printing.
Please picture this opportunity. An end user company has 150 employees and on any one day 100 of them are working from home. From a cost management point of view the company would wish to have some check on these costs.
If the company has print management software in place then there is visibility of volumes and even the printers employed.
If the company does not then there is a potential sale of software.
What if you had software that could upload the printers and their volumes details upon which you could base future service agreements?
VALE's SALESLink and Telesales systems have the capability of uploading, holding and interrogating those non-contracted printer details.
But what about a smaller company who does not have print controller software and might find it difficult to implement or hard to cost justify?
An account manager or new business salesperson tends to be more expensive than a telesales operative so employing VALE's SALESLink and Telesales systems that information can be gathered for the home operatives with the co-operation of the employer by contacting the employees by email or telephone.
Such information can be gathered more randomly from marketing lists which in turn will reveal potential company hits.
Cost per print of a home printer tends to be considerably higher than for office printers so here is an opportunity to charge more for cost per print and replace home printers progressively with low volume office type printers, recycling second hand ones for example.
Wider ranging contracts that encompass both office and home printers become attractive to end user companies and open the opportunities for Office Equipment companies to plunder the lucrative toner cartridge business whether it is by tying in the cartridge supply or by cost per print and VALE SALESLink and Telesales systems enable the identification and on-going support of that business.
This article is backed by properly analysed surveys and please read on to learn of their findings. To learn about SALESLink and Telesales in relation to the contents of this article Click Here – enquiries to nigelh@vale.co.uk.
Home Printing Survey – 2021
Key Findings from our (Cartridge People) Home Printing Statistics Study:
Cartridge People conducted a study asking 1,531 people about their printing habits. This research has found that:
More than one in five people are printing more now than they were prior to the pandemic.
Over a quarter of people are using their printer daily and half are printing on weekly basis.
28% of people are now using their printer for working from home, 14% now need to print either for their child's or their own education.
19% of people are using their printer to keep in touch with others by sending letters.
HP is currently the most popular printer manufacturer in the UK (47% of respondents).
A third of UK printer owners are not using compatible printer cartridges.
22% of people believe that third party cartridges will damage their printer and 17% believe they will invalidate their printer warranty.
More than three quarters of UK printer owners are using an inkjet printer.
Alarmingly, more than one in ten printer owners don't know whether their printer accepts ink or toner cartridges.
The Impact Of The Pandemic On Home Printing
Since the initial UK lockdown back in March 2020, there's been a shift in how people go about their day-to-day lives. Working from home has become a new norm that may even become a mainstay once the pandemic is over. Schools have been closed at various times and parents have needed to homeschool whilst others have needed to print more than ever to keep in touch with relatives, relieve the boredom of lockdown through arts and crafts and all this has combined to produce a period when the demand for printers has never been higher.
The below graph is information from Google showing the interest in people searching for "home printer" over the past 5 years.

It is perhaps then unsurprising to learn that our study found that more than one in five (22%) of us are printing more now than before the pandemic started.
How Often Are We Printing In 2021?
According to our results, 27% of people are printing on a daily basis and 50% are using their printer every week.
What Are We Using Our Printer For?
Just over half of the people in our survey said they used their home printer for general use such as document printing, tickets, bills and receipts.
The impact of the pandemic can be seen in the 28% of people who now rely on their printer to support their business and/or for working from home. With 14% answering that they use their printer for educational needs, this supports what many are saying around the need to print when homeschooling.
Parents have taken to social media to talk about the need to print as a result of their child's school being closed during lockdown and one caller to ITV's This Morning recieved a free printer from presenter Holly Willoughby.
The home printer has often been used as parts of arts and crafts activities and whilst the country has gone through various lockdowns, it's clear the 10% people who use their printer for this reason would have done so to alleviate the boredom.
What we were surprised to learn, was that nearly one in five are printing in order to stay in touch with others. At a time when social media and video calls seem to be championed as the ways to communicate, many are still sending letters to loved ones in a more traditional way.
Despite the lack of travel, we're still using the home printer for photographs and perhaps as a way to try and capture the events of the past year. It's also heartening to see that despite the difficulty the nation's faced, 11% of people are printing to support charity or church organisations.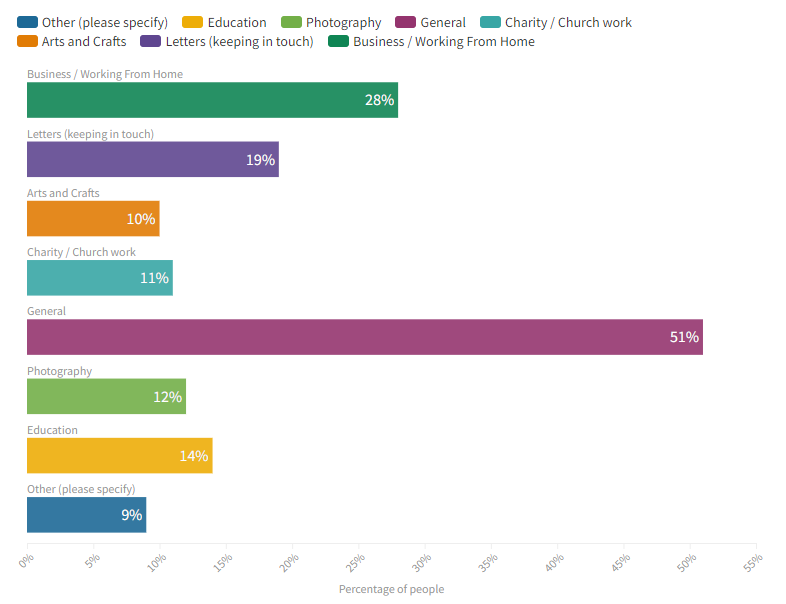 Best Printer Manufacturer 2021
Receiving 47% of the votes, HP is the most popular printer manufacturer in the UK according to our findings. Canon came in second place with 20% of the vote, Epson a close third with 17% and then making up the "printer champions league places" is Brother with 7%.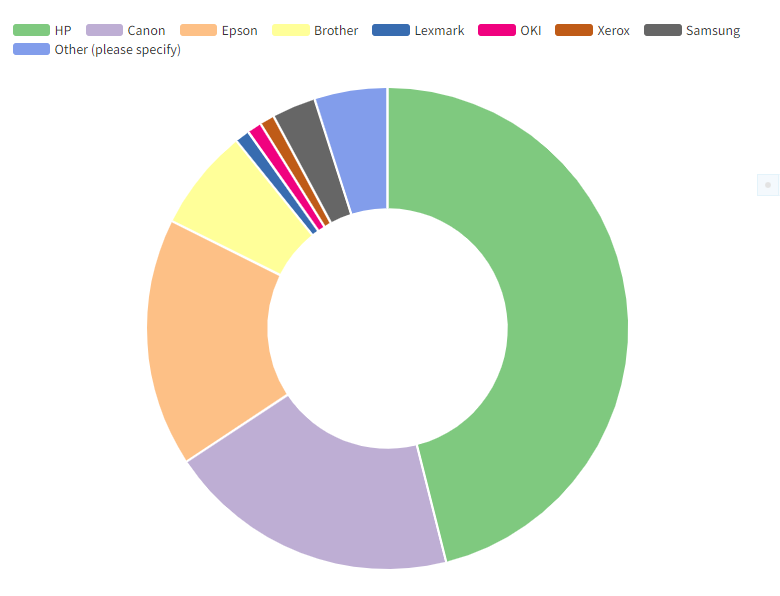 InkJet, Label or Laser?
We asked what type of printer people owned. 76% of people said that they owned an inkjet printer, which has always been viewed as a machine better suited to a home where mono and colour printing is required. When it comes to laser printers, 18% said they owned one. Label printers, whilst their popularity may have grown with the switch to home working are still only owned by under 2% of our respondents.
A worry though is that there are many who still aren't sure what type of printer they actually own. More than one in ten (11%) said that they weren't sure whether their printer was an inkjet or laser printer.
Own Brand Compatible Cartridges
For a long time, we've been helping businesses and home printer users to save money when it comes to buying replacement cartridges. Our research has found though that a third of printer owners still aren't using compatible alternatices and taking advantage of the significant savings on offer.
Of those who said they don't use compatible, 22% said the reason was that they thought they would damage the printer. With Cartridge People Own Brand products we ensure that thorough testing is carried out and we offer only the most reliable products on the market.
Finally, we found that 17% felt using Own Brand products would invalidate their warranty, This is not true.
All of our Own Brand ink and toner cartridges are backed by our Lifetime Printer Guarantee and won't invalidate your printer warranty.
Other Related Information from Different Sources
This information comes from Printing Statistics the Latest Global Data CMYK Posted by Rob Errera on 07/06/2022.
COVID-19 had an Impact on Print:
The total US print industry profits decreased by 3.4% in 2020.
China suffered huge disruptions, which caused an 80% decrease in print production.
With the sudden shift to remote work, office printing rates decreased dramatically – 13.7%.
It's estimated that 2.8 trillion pages got printed in 2020, a lot less than the previous year which had a total of 3.2 trillion pages.
With the move to the home office, the home printer industry bloomed. In 2020, which was an off-year for print, the global printer market made$42.3 billion in revenue.
Home-use printer and copier sales flourished in 2020 – with a 12% increase and a total of 107 million units globally.
In June 2020, one of the leading printer manufacturers Brother reported dramatic increases in laser printer sales. Home-use laser printers became all the rage among people equipping their home offices. In particular, 30% more single-color laser printers, and 42% more color laser printers were sold.
The printer industry had a hard time keeping up with the demand. Supply chain disruptions were a big issue during the pandemic, and the manufacturing and delivery logistics of printers, paper, toner, and ink were affected too.
It's estimated that the value of out-of-stock items reached $1.14 trillion.
Print industries around the world are recovering from the far-reaching effects of the pandemic. For example, Mexico's publishing industry grew by 7.6% in 2021, reaching a worth of US $307 million.
Data on Printing Costs
On the home printer market, most consumers opt for all-in-one inkjet printers costing less than $400, followed by laser multifunction printers with a starting cost of less than $500. Despite the lower initial cost, inkjet printer ink ends up costing more per page than laser printing.
An average laser printer toner can put out up to 4,000 pages. That number goes up to 12,000 pages for high-capacity toners.
It's estimated that on average, one employee will print out 10,000 pages per year. That adds up to approximately $750 in printing costs per employee.