When the going gets tough the tough get going – so the saying goes.
Well we at VALE have certainly got going. In the last 7 months we have not furloughed any member of staff nor have we reduced our commitments to our sub-contractors.
We have taken advantage of this break in normality to carry out extensive development work so that we are well equipped for whatever comes next.
We only have space here to mention a few of our projects but if you want to know more please send an email to sales@vale.co.uk and we will be pleased to provide you with more details by whatever medium you prefer. During the first Lockdown we carried out demonstrations via GoToMeeting and Zoom, we subscribe to both of these very good tools.
Here are some tasters of what we have been up to.
Sales Tools – We have developed WEB based secure access to the customer and machine databases so that a salesperson can access only their records and update their relationship progress.
This sub-system will provide prompts and reminders for follow up action and is completely centralised so that the danger of a disloyal salesperson stealing data is very difficult, even painful.
Service Tools – We have added to our powerful service software offerings. New versions of the Nimrod field service application are now available for Android and iPhones.
We have added a WEB based work control system to the existing powerful Mercury Windows system and to VALE service call processing.
The new software is highly integrated to mapping software to greatly improve work control decisions and where Nimrod is employed the location of each and every engineer is known making allocation decisions even easier.
This creates a win win situation for work control and engineers alike as it results in better routing decisions that in turn will reduce the percentage of travel time.
Information Tools – We have created a new sub-system which enables users to easily configure the distribution and storage of information.
In parallel this system can also be employed to pass data into the VALE software, for example meter readings and toner requests from external software systems.
Training – We have created a series of training videos and by employing GoToMeeting and Zoom we are able to train users remotely one to one as if we are sitting beside them whilst they learn the VALE systems.
New Customers – We have improved the programs that enable us to move customers from other systems onto VALE. These are now so good that we can set up a replacement system complete with the new customer's data on it for them to check whilst we work alongside remotely using GoToMeeting and Zoom. Then when the new customer is happy with the data we can do a real time transfer, typically overnight or at a weekend, so that the new users can go live at start of the business day without the need to parallel run.
Here are some tasters of our 2020 development, by no means comprehensive.
The Nimrod Menu                         The Call List                  Machine Information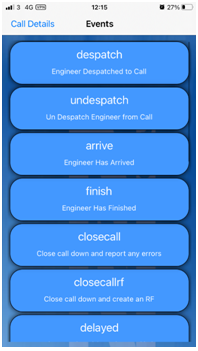 Nimrod enables field engineers to receive up to date lists of their calls.
Nimrod enables field engineers to record their readiness – despatched to next call, arrived at call, finished call etc
Nimrod enables field engineers to look up information about the machines being attended.
Nimrod enables field engineers to look up parts availability, to record parts used so that their stock is replenished and to order parts not in their stock.
An engineer can even see if adjacent colleagues have a part required that he or she does not have.
An end user can sign the phone and receive a printed call sheet via email
Nimrod software can be rented.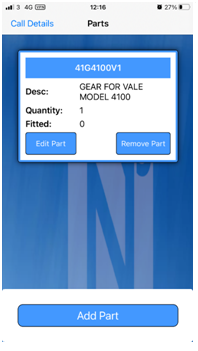 The cost of employing Nimrod software typically is significantly less expensive than the phone contract monthly fee.
Document Viewer is part of newly developed interfaces that enables the handling of both VALE and other documents in a very user friendly manner. Employing this facility users can view, move, print, copy, download and delete documents on the VALE system. So this set of tools handles both the data tables on the VALE system or files associated with the user's login.
From this latter fact it will be understood that the tools are configured by those with administration rights thus assuring the business that these facilities are secure.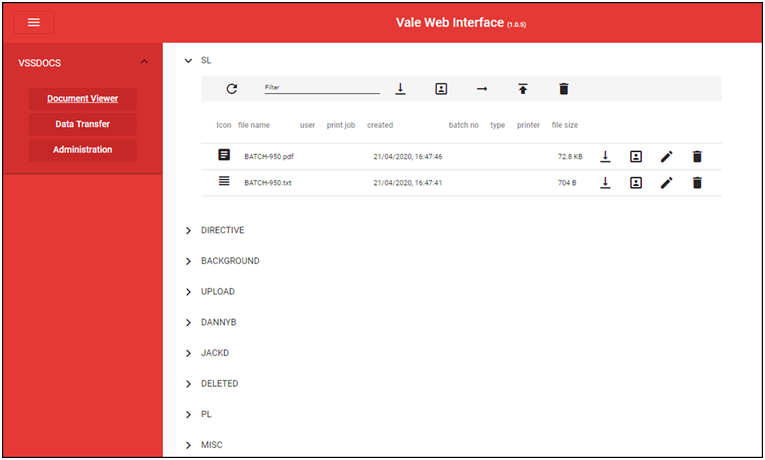 According to configuration documents can be placed automatically in appropriate filing systems. So, for example, vital audit trails which may be needed at a later date, for example when the company's auditors are vetting the accounts before they are finalised, can be placed in appropriate administration files for retrieval or printing.

These VALE WEB tools also enable external files to be imported and uploaded into the VALE system by simply dragging and dropping.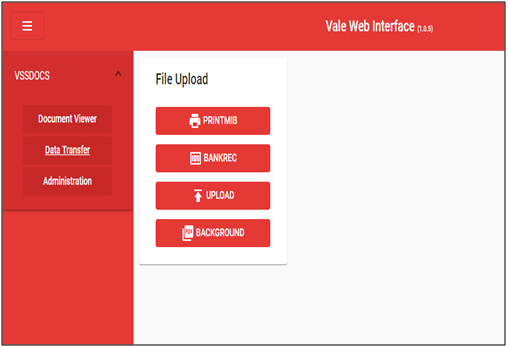 The process is absolutely safe as the VALE system will check that the file conforms to acceptable format and contents.